<< Back to Calendar
November 2021- PMI NC Triad Book Club
Join the NC Piedmont Triad PMI Chapter Book Club as we discuss, Emotional Intelligence for Project Managers by Anthony Mersino.
Come prepared (having read the book)! It should be a good time!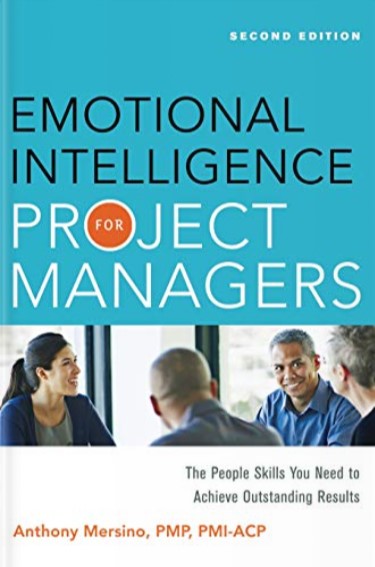 Book Description:
As if the project manager's job was not hard enough--having to be not a jack of all trades but a master of them!--all the technical expertise he has learned can be completely nullified if he doesn't have good people skills to navigate appropriately through all the obstacles each project is certain to bring. As recent research has indicated that emotional intelligence (EI) now accounts for an astonishing 70 to 80 percent of management success, there is no doubt that today's successful project manager needs strong interpersonal skills and the ability to recognize emotional cues in order to lead their teams to success--the technical expertise the position depended on so greatly in the past simply isn't enough anymore!
Emotional Intelligence for Project Managers introduces readers to all facets of EI and shows how emotions can be leveraged to meet project goals. Project managers strong in technical skills but needing help in the EI department will learn how to:
Set the tone and direction for the project

Communicate effectively

Motivate, inspire, and engage their team

Encourage flexibility and collaboration

Deal productively with stress, criticism, and change

Establish the kind of high morale that attracts top performers

And more
Now in its second edition, this unique and invaluable resource for project managers in every industry includes several expanded sections on self-awareness and self-management, as well as a new chapter on using EI to lead Agile Teams and a close look at Servant Leadership. You've spent years gathering the technical intelligence you need for this challenging career--now separate yourself from the pack by increasing your emotional intelligence!
- Source: Amazon.com
Cost: Free (we will assume that you have purchased the book and have read it).
You can purchase the book on Amazon and Barnes & Nobles.
Book is available for order on Amazon, Bookshop and Libro.fm. It is available in digital, paperback, and hardcover format.
https://www.amazon.com/dp/0814432778/?tag=bookclubz08-20
https://bookshop.org/books/emotional-intelligence-for-project-managers-the-people-skills-you-need-to-achieve-outstanding-results/9780814432778
https://www.discoverbooks.com/Emotional-Intelligence-for-Project-Managers-The-p/0814432778.htm 
It is no longer possible to register for this event