Live!!! Leadership Lunch and Learn with Project Bites - Free for NC Triad PMI Members
Live!!!  Leadership Lunch and Learn with Project Bites 


Members - Register on this site to receive this class for free.
Non-Members register on the Project Bytes website https://projectbites.com/projectbites-live-jan27/ 
ProjectBites LIVE! (Virtual)
January 27, 2022
Noon-1pm EST
$25.00 per person.
FREE to all ProjectBites members
Sponsored by PMI NC Piedmont Triad Chapter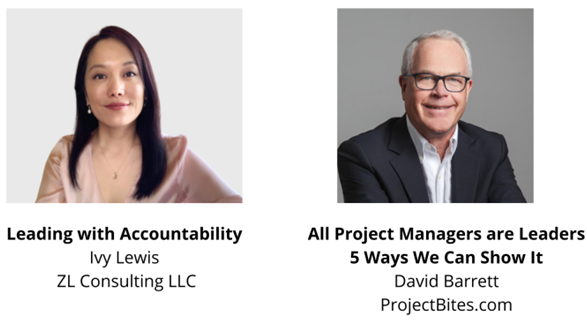 Leading with Accountability
Ivy Lewis
President, ZL Consulting LLC
One of the important leadership traits is accountability. Accountability is a two-way obligation. While you are holding yourself accountable to the results, you are driving accountability behavior in the team.  In this presentation, I will discuss how to lead with accountability and what to expect when you first introduce accountability to the team. 
Ivy Lewis
After 15 years of program management experience in the automotive industry, and successfully executed various types of complex projects, I have decided to build a project management community to raise the impact of project management and establish project management as a culture by creating ZL Consulting LLC. I am passionate about knowledge sharing through content creation. I am also on the board of directors at PMI-HVC chapter.

***************************************
All Project Managers are Leaders - 5 Ways We Can Show It
David Barrett
ProjectBites.com
Successful project management is most often directly related to managing and leading people – yet we spend so little time learning how to do this properly.  As the manager of a new project, you set the tone for your leadership style and approach right off the start.  As the project progresses, your approach to leading your 'people' become critical to the success of the project.  This session will highlight 5 ways we can be great leaders within our projects.
David Barrett
David Barrett is a professional speaker, regular blogger, podcast host, author of 8 books and project management education advisor to numerous universities.  David's career includes the creation and directing of a project management conference business, a training company, a software development firm, a speaker bureau, a project management portal called ProjectTimes.com and the new ProjectBites.com.
IMPORTANT NOTE:  Registration is on a first come, first serve basis. This will be a live question and answer session following each topic facilitated by Project Bites, one of our PMI NC TRIAD Chapter partners.  You can earn a total of 1 PDU and you will need to self-report.  By registering, you agree to share your contact information with the facilitator. Be sure to log in to the website in order to get the member discount.
It is no longer possible to register for this event