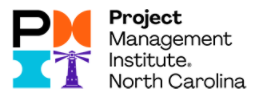 We are pleased to announce our new training partnership with NC PMI.  They are a newly approved training partner (ATP) of PMI and are excited to announce that PMI Piedmont Triad members will enjoy the same member discounts as NC PMI members.  These PMP and PMI-ACP prep courses will be held at various times throughout the year and will be advertised below.
***To ensure that you receive the member discount please reach out to Melissa Reader, VP of Certifications
vp_certifications@ncpmi.org
 ***
---
 04-22-2023 
8:30 am
 -
4:30 pm
Non-Members $1000, Members $900 
This course is taught over five Saturdays. This course will provide the 35 education credits needed for your PMP application. This class is guaranteed to run regardless of the number of registrations. This will be a Virtual-Hybrid class offering the student a choice between Virtual Attendance taught on a Zoom platform and In-person Classroom Training.  In-person classes will be held at Aerie Pharmaceuticals Inc, 4301 Emperor Blvd Durham, NC 27703
CLASS DATES: Saturday,  Apr 22, Apr 29, May 6, May 13, and May 20, 2023
CLASS TIMES: 8:30 AM – 4:30 PM. Lunch Times: 12:00 PM – 1:00 PM
---
 09-22-2023 
8:30 am
 - 09-24-2023 
4:30 pm
Non-Members $700, Members $600
PMI-ACP® is a project management professional certification for Agile practitioners offered by the Project Management Institute (PMI). It is developed to cater to the needs of professionals working with Agile methodologies. The certification tests the Agile practitioner's general knowledge of Agile methods without limiting to a specific Agile framework. 
This PMI-ACP exam prep course is intended for anyone who wants to learn the principles and practices of agile. Whether working on an agile team or knowing an organization is adopting agile methods, the PMI-ACP is a good choice for you. Professionals who want to get knowledge of agile methodologies, principles, techniques, and tools and those already working in Agile environments but looking for more growth opportunities can take up the PMI-ACP certification course.
This course is taught over three days (Friday, Saturday, and Sunday). This course will provide the 21 education credits needed for the PMI-ACP application. This class is guaranteed to run regardless of the number of registrations. This Virtual-Hybrid class will offer the student a choice between Virtual Attendance taught on a Zoom platform and In-person Classroom Training.  In-person classes will be held at Aerie Pharmaceuticals Inc, 4301 Emperor Blvd Durham, NC 27703
CLASS DATES: Friday-Sunday, September 22, 23, & 24, 2023
CLASS TIMES: 8:30 AM – 4:30 PM. Lunch Times: 12:00 PM – 1:00 PM
---
 10-07-2023 
8:30 am
 -
4:30 pm
Non-Members $1000, Members $900 
This course is taught over five Saturdays. This course will provide the 35 education credits needed for your PMP application. This class is guaranteed to run regardless of the number of registrations. This will be a Virtual-Hybrid class offering the student a choice between Virtual Attendance taught on a Zoom platform and In-person Classroom Training.  In-person classes will be held at Aerie Pharmaceuticals Inc, 4301 Emperor Blvd Durham, NC 27703
CLASS DATES: Saturday,  October 7, 14, 21, 28 & Nov 4, 2023
CLASS TIMES: 8:30 AM – 4:30 PM. Lunch Times: 12:00 PM – 1:00 PM